The Congregation of the Rosarians
The Formation
The General Programme of Formation of the Congregation of the Rosarians
Formation is aimed at growth of the whole person in all aspects. Growth happens easier in an atmosphere of love and freedom. At the same time, growth aims at pure love and more and more genuine freedom. The goal of all religious formation is to enable the candidate to grow into mature manhood, "to the measure of the full stature of Christ" (Pastores Dabo Vobis, 43). Formation is a lifelong process; what is aimed at is not a 'finished product', but a developing person, who with greater maturity, will whole heartedly advance along the path of growth and perfection. Formation must be gradual. In the earlier stage, the formators will help the candidate to discern his vocation and develop it by co-operating with the grace of God.
The contemplative life especially requires sound human and intellectual grasping capacity. In promoting vocations to our Congregation we shall endeavour to give priority to our call to the contemplative religious life, rather than to the clerical or non-clerical aspect of it. The whole programme from the very beginning will aim at forming our candidates into mature men who with conviction will willingly and joyfully dedicate themselves wholly to a life of silence and solitude, intent on constant prayer and ready penance, lived in humility, detachment and simplicity according to the Rosarian charism, in the service of God and men (cf. P.C. 7; L.G. 47).
Vocation is a gratuitous gift of God. We need to pray fervently and make frequent sacrifices for the same (cf. Lk 10: 2).  Those who like to enter into our Congregation in their adult age needed a complete screening and see to it whether they have the real desire and earnest. In the case of the ex-seminarians the same is to be followed with the requirements of the Canon Law.
Stages and Duration of
Formation
The initial formation of our candidates will be conducted in three successive stages: Aspirancy, one year; Postulancy, one year; and Novitiate, for one and half year. There shall be a separate Juniorate for one year just after the novitiate before going for philosophy; philosophical studies for three years; and Theological studies done for three years. Separate houses will be assigned for the Aspirancy, Postulancy, Novitiate, Juniorate – Philosophy, final year period and the Theology formation.
On-going Formation: after perpetual vows (Ordination) our members take up their full responsibility in our communities. Formation, growth, change and renewal are life-long processes. Hence we will continue our formation throughout our life.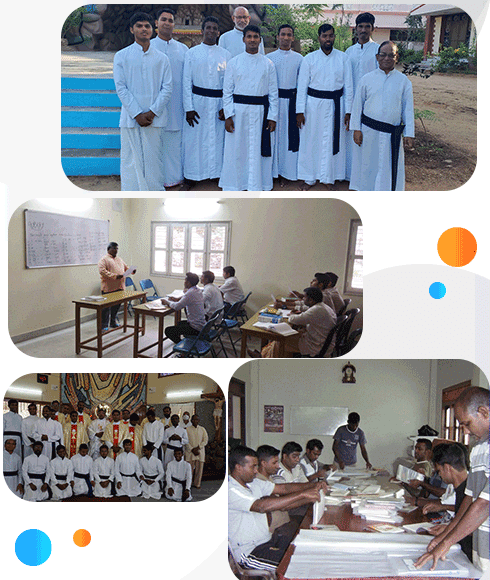 The Congregation of the Rosarians
The Congregation of the Rosarians Welcomes you.....